Why is June 15, 1993 called Salvation Day?
June 15, 1993 entered our history the National Salvation Day and this day is valuable for our people. The National Salvation Day will be celebrated at all the regional and city branches of the party.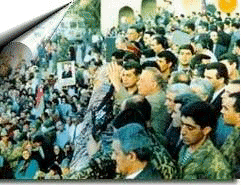 The National Salvation Day 15th of June is celebrated as the coming back of the former Azerbaijani President Haydar Aliyev from the Nakhchivan Autonomous Republic to Baku in 1993. In this period Haydar Aliyev was MP.of the Parliament of Nakhchivan.
The people welcomed the return of Haydar Aliyev with a hope and joy, and this day went down in history of the independent Azerbaijan as the Day of National Salvation. Azerbaijan could be saved only by greatness, braveness and devotion in the moment when the state was in the center of catastrophe and on the eve of destruction, Haydar Aliyev didn't think about himself, as any other head could do, and his devotion, which hadn't been observed in the history saved Azerbaijan.
Firstly, endless belief of Azeri national in its great son.
Secondly, readiness of Haydar Aliyev to everything in the name of salvation of his Motherland, his nation. Haydar Aliyev was ready to any victim in the name of his Motherland and his competitors couldn't esteem his personal potential. Haydar Aliyev's name has entered our history as name of Great Rescuer.
With the insistence of the people in June 1997 Milli Mejlis (National Assembly) declared June 15th Azerbaijan Holiday. The country is officially celebrating this day as "Salvation Day".