Azerbaijan National Library presents a virtual exhibition named "Day of Protection of Rights of Persons with Disabilities" to users
05.05.2021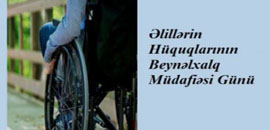 By the decision of the UN General Assembly, May 5 is celebrated as the Day of Protection of Rights of Disabled Persons since 1992. Its goal is to protect the rights of people with disabilities in all spheres of public life and to draw attention of general public to their problems.
The attention and care shown by national leader Heydar Aliyev to people with disabilities has been continued at a high level by President Ilham Aliyev since 2003. "Every citizen is valuable to us. People with physical disabilities deserve special care, and we are trying to do it" said the head of state, and these words find their practical confirmation in the constant strengthening of social protection of persons with disabilities.
In general, the return of people with disabilities to a healthy life should not be limited only to the activities of the family, any governmental or non-governmental organizations. The general public should be involved in solving this problem, and caring for them should become a moral duty of everyone.
On this occasion, staff of the Azerbaijan National Library prepared a virtual exhibition named "International Day of Protection of Rights of Persons with Disabilities". The virtual exhibition features books, articles and photos on persons with disabilities.
Please click on the link below for more information about the virtual exhibition:
http://anl.az/el/vsb/Elillerin_Huquqlarinin_Beynelxalq_Mudafiesi_Gunu/index.html