"Reading Day" at the Open Library
19.04.2018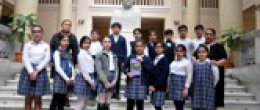 In the Open Library operating under the National Library, an event was held within the framework of the "Reading Day" with the participation of the pupils of secondary school №7 named after M.Rahim, on April 19, 2018. The main aim of the event was to develop reading habits among teenagers and young people and to increase reading literacy.
The pupils performed the eminent Azerbaijani poet Samad Vurgun's poems like "Azerbaijan", "Spring and me", "Клятва поэта", "Весенняя Песенка" and etc. both in Azerbaijani and in Russian. They got acquainted with book exhibition about Samad Vurgun, the first People's poet of Azerbaijan, and had an excursion to the building of the National Library. Then pupils got acquainted with "Azerbaijan Democratic Republic – 100", "Ramiz Mehdiyev – 80", "Baku process – 10" and "Unforgettable Karabakh" exhibitions. While they were in the "Rare books and library museum" department of the library, unique and miniature books in the museum caused great interest of the pupils. They enjoyed acquaintance with "Audio publications and sound recordings" department.
The pupils and the librarian of the secondary school №7 Elmira Sofiyeva said that they were very satisfied with the time at the National Library and expressed their gratitude to the administration of the library.
In the end, they were photographed.