23 April – International Book Day
23.04.2018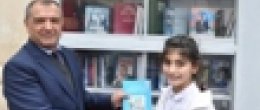 One of the main tasks of the libraries are improving reading literacy, expanding reciprocal relations between library and readers and organizing book discussions.
For the purpose of active involvement of young people in reading and in order to establish reading literacy, an event named "23 April – International Book Day" was held in the Open Library operating under the National Library 24 hours a day and 7 days a week, on the basis of the joint project of the Ministry of Culture and Tourism of the Republic of Azerbaijan and Azerbaijan National Library with the participation of pupils of secondary school № 8 and secondary school № 7.
Director of the National Library prof. Karim Tahirov welcomed the guests, congratulated the pupils on the occasion of the holiday and gave brief information about the history of "23 April – International Book Day". Director of the library announced the poet competition within the framework of the event. The pupils performed poems by Azerbaijani writers and world writers.
The winners of the competition and other participants of the event were given books on the occasion of the "International book day".
In the end, they were photographed.