Exhibition: "31 December is the Solidarity Day of World Azerbaijanis"
27.12.2018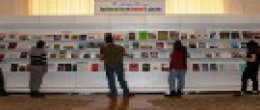 December 31 is one of the most memorable and honorable dates of the Azerbaijani people – Solidarity Day of World Azerbaijanis! The foundation of that date was laid by dismantling the border fences between Soviet Azerbaijan and Iran in December 1989.


On 16 December, 1991, given the importance of establishing the unity of World Azerbaijanis, Heydar Aliyev – then-Chairman of the Supreme Assembly of Nakhchivan Autonomous Republic, declared December 31 as the Day of Solidarity of World Azerbaijanis. It is celebrated by all Azerbaijanis around the world.


It plays an important role in establishing relationship and solidarity among more than 50 million Azerbaijanis living in more than 70 countries around the world.


On December 27, a book exhibition named "31 December is Solidarity Day of World Azerbaijanis" was organized at the National Library on the occasion of the Solidarity Day of World Azerbaijanis.


More than 200 books and periodical press materials about Azerbaijan, integration of the Azerbaijan culture into world culture, multiculturalism and tolerance were demonstrated at the exhibition.